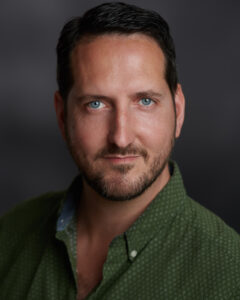 Christophe Philipps combines natural presence with a relatable feel and a gift for comedy – making him an exciting, original and often surprising actor. He is represented by Reality Check Management.
His broad range sees him work in film, TV, commercials, corporates, theatre, live events, improvisation and voiceovers – always bringing something interesting and engaging to the fore.
Christophe is also an accomplished writer and tutor of Creative Writing and Story & Performance workshops at Arts University Bournemouth, a presenter and compere, musician, singer/songwriter, charity event organiser, and theatre and commercials director/producer. He holds an MA in Professional Writing and a BA (Hons) in English & Creative Arts.
He also runs A Bunch of Actors – a creative production company specialising in comedy that has produced several hit online series, commercials, theatre and viral parodies – as well as the Worthing Area Actors and Creatives group.
Stats
Playing range: late-30s to early-40s | Height: 6'2" | Waist/Leg: 35/33 | Chest: 44 | Eyes: Light blue | Build: large
Skills
Comedy, improv, stage combat, presenting, sight reading, song writing, voiceovers.
Singing: Baritone & strong falsetto: pop, indie, swing & musical.
Instruments: Rhythm guitar; mandolin, bass, percussion.
Accents: UK South East (native), RP, Standard US, Standard Australian, West Country.
Full, clean driving licence & own car. DBS (enhanced) checked.
Training
MA Professional Writing, University College Falmouth (Christina Bunce, Derek Hines, Helen Shipman)
With a focus on story structure, editing and 'page-to-stage'
BA (Hons) English & Creative Arts, University of Portsmouth (Stuart Olesker, Dominic Symmonds, John Stanton)
With a focus on acting, writing, directing, producing, music performance and theory in practice
Workshops
Presenting Skills (TV Presenter Training, Brian Naylor, 2020-ongoing)
Stunt Fighting/Firearms Workshops (Stunt Action Specialists: Wayne De Stret, 2015-ongoing)
Monologue & Vocal Workshop (ActorExpo: Nicholas Pinnock, 2013)
Comedy (Stand Up) Course (Komedia: Jill Edwards, 2013)
Actor Masterclasses (Academy of Creative Training: James Coombes, Suzy Catliff, 2010)
Radio Skills Masterclasses (University College Hastings: Abigail Wincott, 2011)
Stage Combat (Chris Jenkins, 2010)
Aerial – Geometric Shapes (School Creative Centre: Lorraine Moynehan, 2010)
Clowning – Double-Act (Penny Lisle, Ash Perrin, 2010)
Farce Acting Skills (John Pounds Centre: Robin Holman, 2006)
Radio Production for Voice (John Pounds Centre: Heidi Cook, 2006)
Other Work
Writer: Long and short form fiction and historical one-man shows, in particular sketch and comic theatre.
Theatre: A Still Life; Town & Country; Life & De'Ath; Everyday Chemistry; The Nightmarish World, or Worldly Nightmare, of Mr Punch
Historical Theatre: 1066 The Battle of Hastings Recreation – With Veg!; The Aftermath of the 1066 The Battle of Hastings; The Worm of Lambton Castle; Mandrake the Mentalist's Ghost Tours – Battle Abbey, Carisbrooke Castle, Walmer Castle; Stories of Nature & Us; Androcles and the Lion (and other stories); Punch & Judy at Osborne House; Pirate Tales: The Golden Chair.
His debut novel, Holy Land: Resistance, is currently in turnaround.
Singer/Guitarist: Originals & covers, as well as improvised songs and comic cover versions.
Teacher: Creative Writing, Sketch Writing, and Story & Performance workshops, primarily for the Creative Writing and Animation courses at Arts University Bournemouth.
Charity work: Former Round Table Area 2 Chairman & volunteer for 'fun therapy' charity The Flying Seagull Project.
Creative Director: A Bunch of Actors theatre and creative production company; Worthing Area and Actors and Creatives group.